If you are a teacher that passes out packets, kicks up your chair and kicks back until the end of class, a Texas student kicks back.
Teen rips into teacher, garners YouTube views
Posted: May 09, 2013 5:53 PM EDT
Updated: May 09, 2013 6:01 PM EDT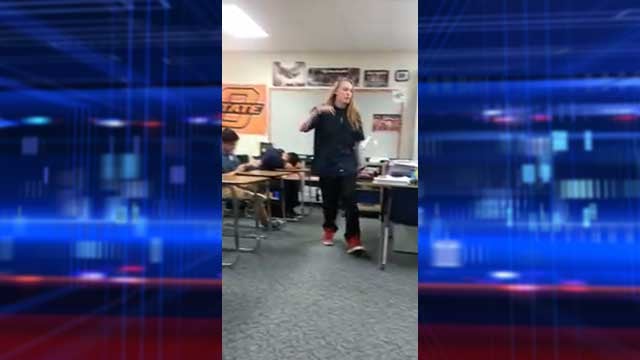 Jeff Bliss was identified as the teen heard ripping into his teacher in a YouTube video. (Image capture from YouTube)
DUNCANVILLE, TX (FOX5) -
A YouTube video showing a Texas high school
student
ripping into his teacher for her methods has garnered support and thousands of views.
In the video (
http://youtu.be/yqk3tqwAfC8
), a teen named Jeff Bliss rants to his
teacher
after she ordered him out of the classroom.
"[I keep] hearing this freaking lady go off on kids 'cuz they don't get this freaking crap," Bliss says in the clip. "If you would just get up and teach them instead of handing them a freaking packet. These kids don't learn like that."
Later in the video, Bliss urges the teacher, who is identified in the YouTube clip page as Mrs. Phung, to get his classmates excited for the material in the class.
"You want a kid to change and make him do better? You gotta touch his freaking heart," Bliss says in the clip. "You gotta take this job serious. This is the future of this nation."
Bliss told FOX station
KDFW
the tirade sparked from his teacher telling him to stop questioning procedures in a test. Bliss said she responded with profanity.
Bliss, though, acknowledged his opinions could have been made in a better way than what was seen in the video, which, as of Thursday, garnered more than 84,000 views since it was uploaded Wednesday.
Meanwhile, KDFW reported the Duncanville, TX, Independent School District suspended the teacher in the video with pay amid an investigation in the incident.
What do you think about the teen's rant? Send your own rant to
FOX5Vegas.com
or The Rant page on
Facebook
.
Copyright 2013 KVVU (KVVU Broadcasting Corporation). All rights reserved.